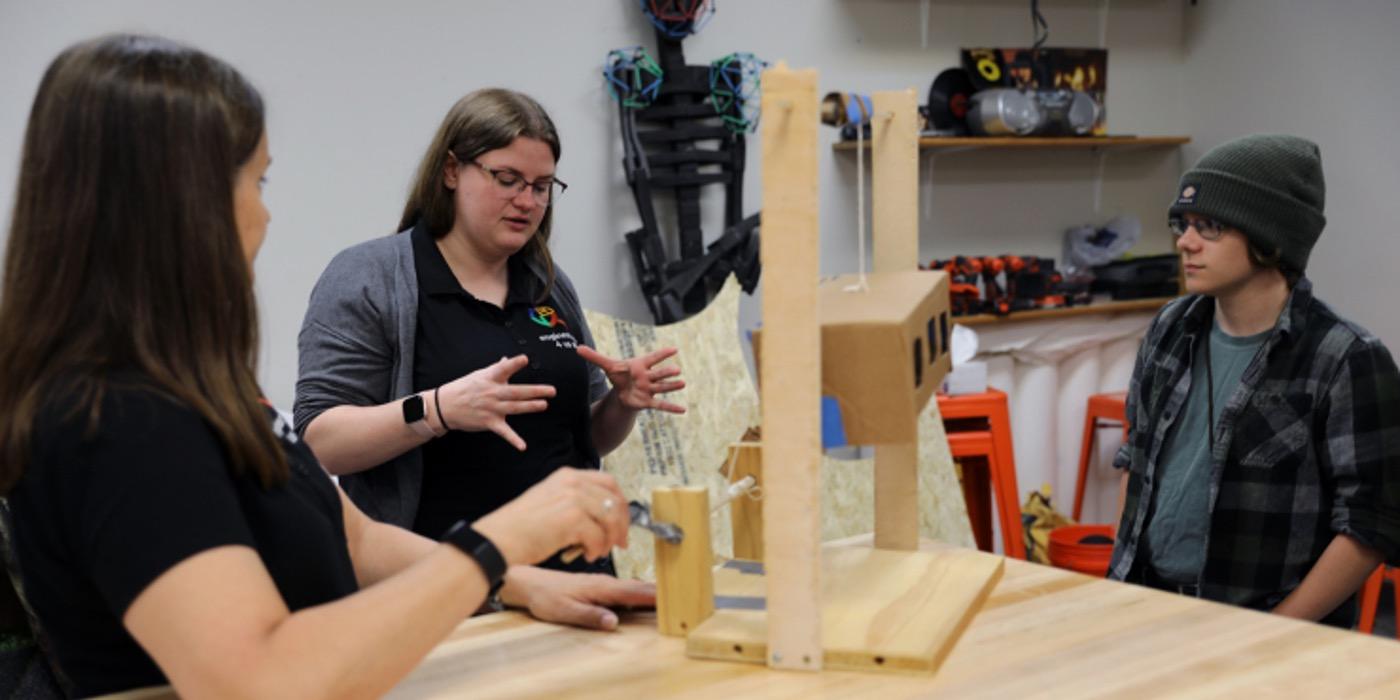 When Emily Moreno-Hernandez saw the final designs for the feeding apparatus that was installed at the Duke Lemur Center, she couldn't help but feel a sense of pride. The designs of the students she'd been helping mentor weren't as complex or robust as the one developed by Duke Engineering first-year college students. But that was to be expected—the students are, after all, ninth and tenth graders at Oxford Preparatory School.
"I was excited to see that Oxford Prep students had a lot of the same ideas as the college students," said Moreno-Hernandez, who coordinates operations and outreach for the Shared Materials Instrumentation Facility (SMIF) at Duke. "I could tell that they'd been paying attention and were embracing learning the engineering design process."
As part of her job with SMIF, Moreno-Hernandez is engaged with Duke Engineering's arm of the national Engineering for US All program, otherwise known as e4usa for short. While it's her first time through program having started at Duke in July, it's the school's third time through the e4usa curriculum.
A first-of-its-kind, national initiative, the program is designed to introduce engineering design principles to a new generation of students, inviting all schools, teachers and students to fully participate, regardless of their technical background or preparation. Funded by the National Science Foundation, e4usa had more than 5,000 students go through the program, which makes intentional efforts to reach populations traditionally underrepresented in the field.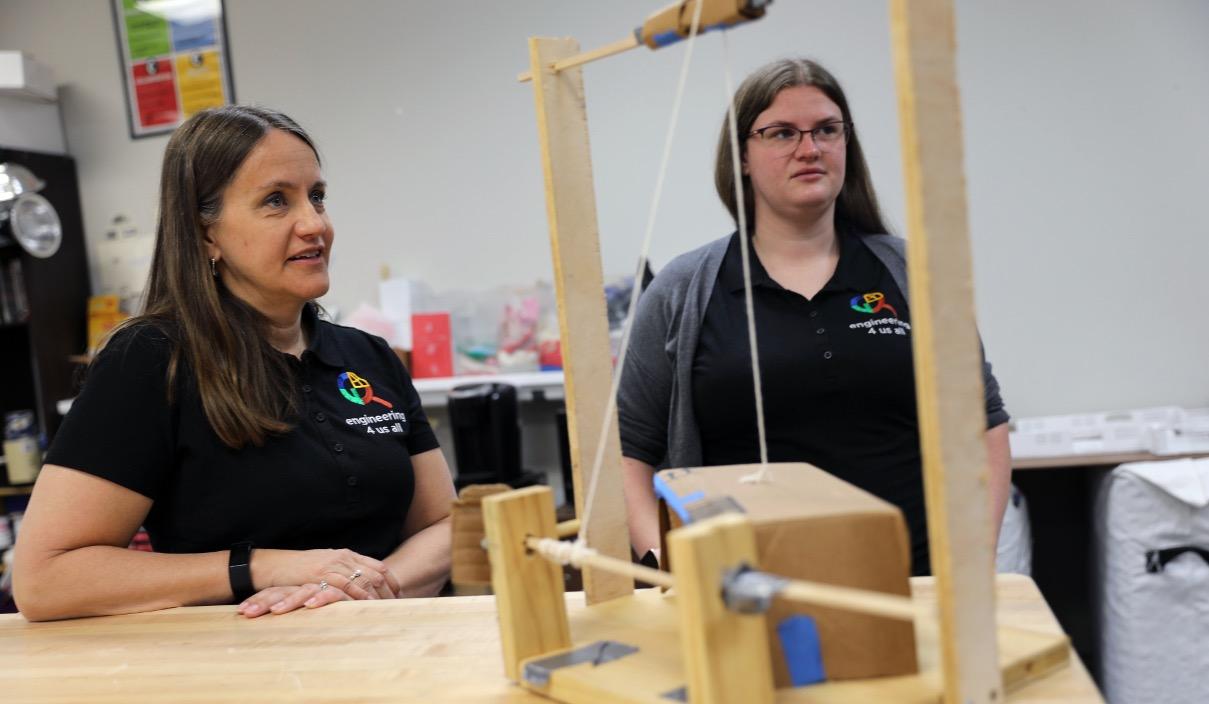 Over the course of the curriculum, students learn what engineers do and how they impact the world. They then learn a systematic iterative engineering design process and put it to use with a partner in the local community to solve a problem. The class then expands to delve into the logistics and challenges of a global issue before identifying and tackling a problem that speaks to each student individually.
These general guidelines are implemented in different ways at the more than 80 high schools participating nationwide. At Duke, Moreno-Hernandez helps mentor two full classes of students as they try their engineering hand at one of the projects being pursued by the Duke Engineering First-Year Design program. Working with the classes' teacher Doug Roberson, STEM/makerspace teacher at Oxford Preparatory School, she had the students design and build a new type of feeding system for lemurs.
Before this project, lemurs at the Duke Lemur Center were being fed out of stainless steel bowls on the ground or within easy reach, which didn't line up with their natural feeding habits of foraging high in trees for their food. The students' goal was to create an easily refillable, easily cleanable solution that could hold a variety of food—like a head of lettuce or cups of lemur chow—while being safe for the lemurs and not damaging to the trees.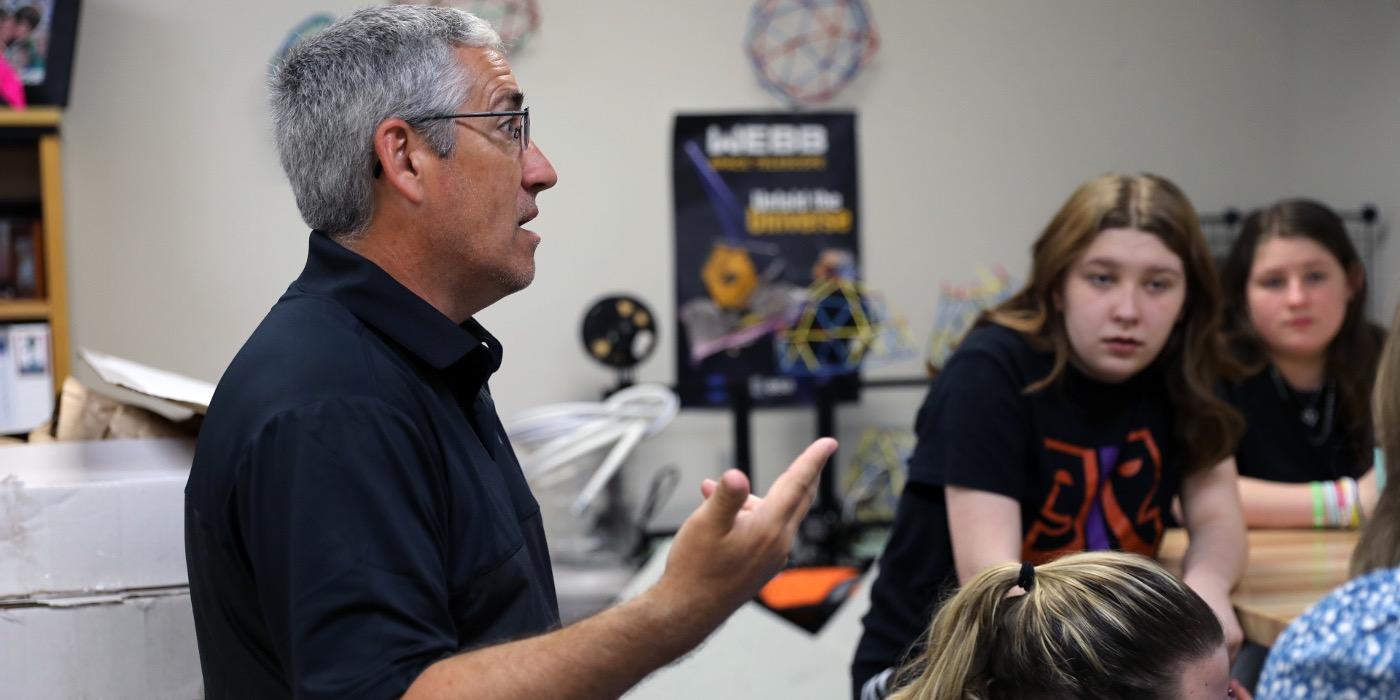 "When I was presented with the idea to work with Duke's engineering class on the Lemur Project, I was a little nervous, as this was my students' first big project working within the concepts of e4usa's engineering design process," said Roberson. "But as they were presented with the idea, I could see their excitement. After lots of visits from Emily and video calls with Sherry Samuels from the North Carolina Science Museum in Durham, they went to work, planned, researched, brainstormed, created models and showcased their prototypes. They ended up doing an outstanding job presenting in our DesignaThon!"
Fast-forward several weeks, and all of the lemur-feeding prototypes sit gathered together on one of the makerspace classroom's worktables as Stacy Klein-Gardner looks over the students' ingenuity. An adjunct professor of biomedical engineering at Vanderbilt University, Klein-Gardner is one of the founders and a co-director of the e4usa program.
She's also chair of Duke Engineering's Board of Visitors, which is what brought her close enough to Oxford Preparatory School to make a visit.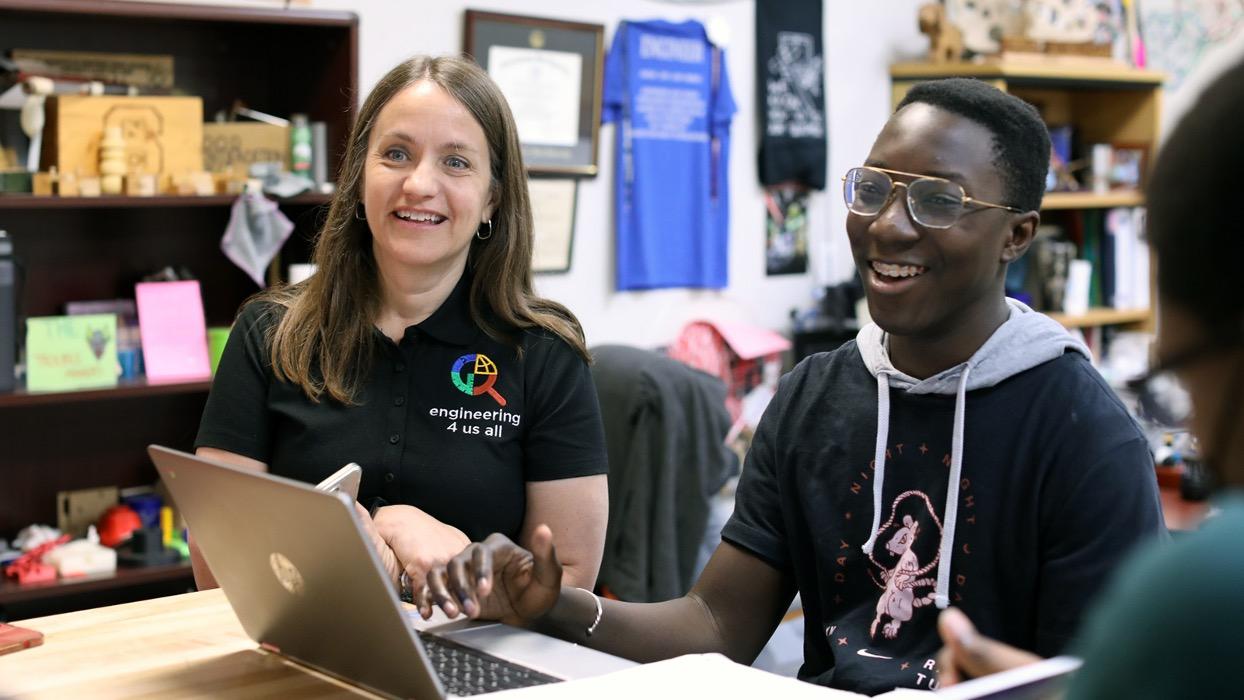 "My favorite days are the ones spent in an e4usa classroom, working directly with students and our e4usa teachers and liaisons," said Klein-Gardner. "Pratt's involvement with Oxford Prep is one of our model partnerships as we seek to democratize and demystify engineering for high school students."
Besides getting to see the students' previous handiwork, Klein-Gardner and Moreno-Hernandez visited to offer advice to the student teams now pursuing solutions to challenges in their local community. This section of class is split into teams: one looking to fix a flooding issue for a local animal shelter and another trying to help local pet owners take care of their animals.
Throughout the morning, the pair offered insights into how the engineering design process might be applied to their problems and who they could potentially reach out to for help. For example, the team focused on flooding could be connected to landscape architects or civil engineers at Duke, while the animal care team came away with an idea to look into apps that can identify pets based on nose prints.
"Watching Doug's students progress and tackle real engineering problems in their community has been a joy. I'm filled with hope and excitement for their future, knowing that the impact of their e4usa experience will extend beyond the classroom," said Moreno-Hernandez. "The key takeaway I see from e4usa is that engineering is accessible and relevant to everyone, regardless of their background or career aspirations. Even if they don't pursue engineering specifically, I'm confident that this experience will encourage them to apply STEM principles in their lives and work in meaningful ways."